ARE YOU THE NEXT ULTIMATE MARKETER?
Are you using Infusionsoft in innovative ways to take your business to the next level? If so, you could be our next Ultimate Marketer!
The Ultimate Marketer contest recognizes Infusionsoft users who WOW us with how they are using Infusionsoft to revolutionize their business. You don't have to be a professional marketer; you just have to have a great campaign story. Watch Infusionsoft co-founder Scott Martineau talk about what it means to be an Ultimate Marketer and why this year's contest is the biggest ever.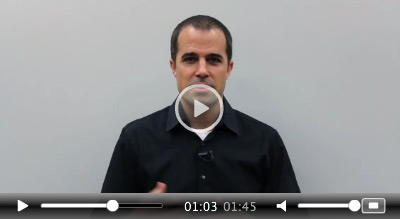 Will you be the 2012 Infusionsoft Ultimate Marketer? There's only one way to find out, so enter today!
Enter Now!
Prizes
Ultimate Marketer finalists are in the running to win one of these fantastic prizes:
Grand Prize
Our Grand Prize winner will win a Mastermind Retreat for two at Infusionsoft's headquarters in Phoenix—then you'll take off on a five-day, four-night trip to Hawaii! You'll spend a day talking business strategy with Infusionsoft co-founders Clate Mask and Scott Martineau, and Brad Martineau and Dave Lee of Sixth Division before heading to the Fairmont Kealani on Wailea Beach in Maui for a relaxing getaway.
The 2012 Ultimate Marketer will receive additional recognition after the conference, including being featured in the Infusionsoft newsletter, press releases and on the Infusionsoft blog.
Runners Up

Enter Now!
How to Enter
Share your successful Infusionsoft story with us by entering any of our three categories. You're welcome to enter multiple categories, and you can download a PDF preview of the entry questions.
Attract & Capture – Tell us how Infusionsoft helps you successfully use lead generation tactics like SEO, PPC, content creation, social medial and blogging, advertising, lead magnets, segmentation and Web forms.
Nurture & Convert – How does Infusionsoft help you better segment and educate leads, prep for sales and close sales?
Upsell & Refer – What are some ways you've used Infusionsoft to deliver and satisfy customers with tactics like segmentation, upselling, cross-selling and generating customer referrals?
Finalists will be selected by Infusionsoft and invited to present their success story at InfusionCon 2012, where hundreds of small business users will vote for their favorite. The winners will be announced on Tuesday, April 3rd during a special session at the conference.
Entries must be received by February 10, 2012, at 11:59 PM. See our contest rules, requirements and eligibility.

Enter Now
Please fill out the form below to get started with the contest entry. You're welcome to download a preview of the
entry questions.